Parties in the Treaty
Edit
This document serves to legally and fairly partition the former territories of "The Kingdom of Sardina-Piedmont", once ruled by King Ishmael Emmanuel Decksteel. These territories were conquered through military campaigns across North Italy in the summer of 1749, and the cowardly flight of Ishmael Emmanuel after his final defeat at the Battle of Nice (1749), which led to military ocupation by coalition forces.
The agreement that Austrian and Swiss diplomats came to after months of heated discussion, is that the province of Piedmont shall be split evenly, with the eastern half ceded to Switzerland, and the west to Austria. On the island of Sardinia itself, Switzerland will receive Olbia-Tempio, while the rest of the island shall be ceded to Austria.
The Swiss and Austrians have also reaffirmed their close partnership, as the two dominant states of central Europe, and will continue to work together to promote the inherent rights that have been bestowed upon them.
Partition
Edit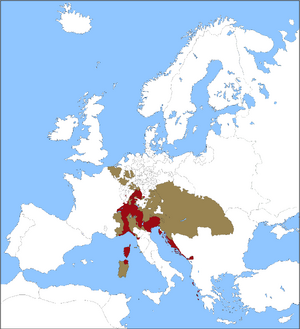 Duchy of Savoy, Eastern Aosta Valley, County of Nice, and western half of the Principality of Piedmont to Austria
Western Aosta Valley, Val Sesia, Lomellina, and eastern half of the Principality of Piedmont from Turin to Switzerland
Province of Olbia-Tempio to Switzerland
Cagliari, Sassari, Oristano, Nuoro, Ogliastra, Medio Campidano, and Carbonia-Iglesias to Austria.
Signatures
Edit
Switzerland
Edit


Habsburg Empire
Edit