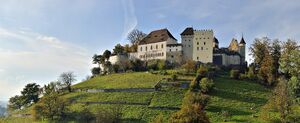 Lenzburg Castle is a castle located above the old part of the town of Lenzburg, in the Kanton of Zurich. It ran ks among the oldest of most important in all of Switzerland. The castle stands on the almost circular castle hill, which rises over the surrounding plain. The oldest parts of the castle date to the 11th century, when the Counts of Lenzburg built it as their seat.
Ad blocker interference detected!
Wikia is a free-to-use site that makes money from advertising. We have a modified experience for viewers using ad blockers

Wikia is not accessible if you've made further modifications. Remove the custom ad blocker rule(s) and the page will load as expected.