House of Wolfe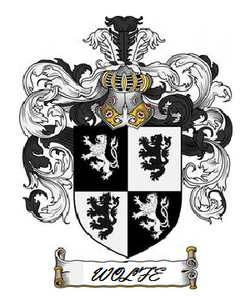 Sigil
Wolf shield adorned with a knight's head.
Seat
Ludwigsburg Palace, Stuttgart
Religion
Roman Catholicism
The
House of Wolfe
, was a noble house from Sion in Kanton Valais of Switzerland. They were vassals of
the House Kroshbon
, and had their seat at the Castle Tourbillon. Their lands extended throughout Valais, southwest of Bern. The head of the house was Count of Valais. In 1743, following the
Swiss Invasion of Wurttemburg
, the House of Wolfe is given dominion over the newly created Viceroyalty of Wurttemberg, later Baden.
Eventually, in 1750, the disenfranchised sons of Sir Blau Wolfe, the founder of the House, who had been sidelined from Swiss affairs due to their Houses affiliation with the Swiss Rebels during The Swiss Civil War (1746), were given control once more over Wurrttemberg, and elevated to Great House status as Dukes of Baden.

The House of Wolfe was elevated to the Nobility in 1736, when Sir Blau Wolfe was risen to administrate the County of Valais for King Ryan I Kroshbon. They would continue as minor nobles for some years, garnering massive wealth when Blau was made Minister of Finance and Chief Executive of the Swiss Trading Company.
Upon Blau's participation in The Swiss Civil War (1746), the House of Wolfe was stripped of all its lands and titles, while their Lord was effectively sidelined from governance other than as a mere noble, until the King's death in August 1746. When the new King, David Kroshbon, ascended the throne, he banished Blau Wolfe from Switzerland, exiling him to Prussia, where he would remain till his death in 1748.
After the death of Blau Wolfe and King Alexander's ascension to the throne in 1747, the children of Blau Wolfe were allowed back into Switzerland for the first time, and permitted to return to their childhood homes of Tourbillion.
In 1750, after distinguished service in the Swiss Navy, Blau Wolfe's eldest son, Lord Azreel Wolfe was elevated as Duke of Baden, during his run for the premiership.
Sir Blau Wolfe - Founder of the House and Count of Valais. Died 1748.

Lord Azreel Wolfe - Eldest son of Sir Blau Wolfe. Duke of Baden and Prime Minister. Abdicated in 1751.
Lord Benjamin Wolfe - Second son of Sir Blau Wolfe. Duke of Baden and Minister of Law following Azreel's abdication.

Lady Kate Wolfe - Wife of Lord Benjamin.
Lady Kane Wolfe - Daughter of Lord Benjamin.

Sir Mighty Wolfe - Third and youngest son of Sir Blau Wolfe. Director of Law.

Sir Brainiac Wolfe - Son of Sir Mighty.

Lady Li Wolfe - Cousin to the Main Line
Lady Dragon Wolfe - Sister of Lady Li

Lady Ednis Wolfe - Daughter of Lady Dragon