House of Merian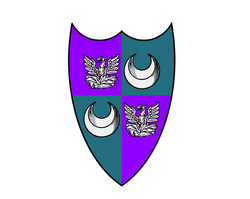 Sigil
Two phoenix and two crescents adorning a shield.
Seat
Ruhestatte Schloss, Delemont
Vassals
House of Firewalker
Religion
Roman Catholicism
Founder
Lady Darby Merian
The
House of Merian
is one of the Great Houses of Switzerland, being elevated to the Dukes of Jura in January 1751, after Lord Gustav Dreadre fled the nation, leaving his wife, Lady Darby Merian, to be elevated to Duchess of Jura. The rule over the Kanton of Jura, a wealthy and productive region of Switzerland from their seat the famous Ruhestatte Schloss, one of the most magnificent castles in Switzerland. They are vassals only to the royal
House of Kroshbon
.
TBA
Lady Darby Merian, Duchess of Jura and founder of the House.
Lady Samantha Merian, younger sister of Lady Darby and heir.
Sir Benjamin Merian, cousin to Lady Darby and Viceroy of Lucca.
Military strength
Edit
The Kanton of Jura, although being the smallest of the Swiss regions, can muster quite the army. As Dukes of Jura, the House of Dreadre is able to command 30,000 infantry, 3,000 cavalry, and 500 artillery. Jura is also one of the wealthiest Kantons, resulting in Juran troops being the most well equipped of all the realm's military forces.