House of Machawk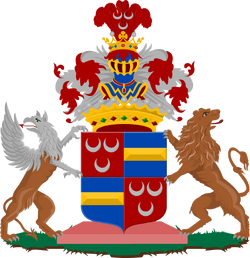 Sigil
A griffin and a lion holding up a pointed shield adorned with a knight's helmet.
Words
Proud to be faithful.
Religion
Roman Catholicism
The House of Machawk is a noble house in Switzerland, that held fealty to the House of Kohleschmied. They were elevated as the Counts of Glarus by King Alexander in 1750, however had been a family of note in both Britain and Spain for many years beforehand. They hold control of Glarus through their seat Rapperswil Castle, located on the eastern shore of Lake Zurich. Their current head and Count of Glarus is Lord Eric Machawk. 
N/A
Known Members
Edit
Lord Eric Machawk, Count of Glarus and founder of the family

{Prince Samuel Clemente-Machawk}, Former Swiss Minister of State and traitor
Queen Maddison I, former wife to Alexander I of Switzerland
Sir Stars Machawk, current heir